Customized Software Solutions
At Sofient, we specialize in delivering custom software solutions tailored to meet your unique business requirements. With a team of skilled developers and cutting-edge technologies, we create robust and scalable software applications that drive your success.
We believe in the power of customization. Whether you need a web application, mobile app, enterprise software, or cloud-based solution, we take pride in crafting tailor-made software that aligns perfectly with your business processes. Our experienced developers leverage their expertise in various programming languages and frameworks to create robust, user-friendly, and feature-rich applications.
Our Approach
We follow a meticulous approach to software development, beginning with a thorough understanding of your goals and objectives. We conduct comprehensive consultations to gather requirements, analyze your existing systems, and identify potential challenges. Our team then designs a strategic roadmap to ensure seamless execution and successful delivery of your software solution.
Our Methodology
We follow Agile methodologies to ensure flexibility, transparency, and collaboration throughout the software development lifecycle. This iterative approach allows us to adapt to changing requirements, implement feedback promptly, and deliver tangible results in shorter development cycles. With regular milestone reviews and continuous communication, we keep you involved and informed at every stage of the project.
We are committed to delivering excellence. Our dedicated quality assurance team conducts comprehensive testing, ensuring your software is free from bugs, performs optimally, and meets stringent quality standards. From functional testing to usability and performance testing, we leave no stone unturned in guaranteeing a seamless user experience.
Maintenance and Support
Our relationship doesn't end with the software deployment. We provide ongoing maintenance and support services, ensuring your software remains up-to-date, secure, and optimized for performance. Our team is available to address any issues, provide technical assistance, and implement updates to keep your software running smoothly.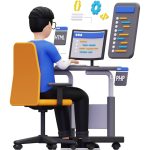 Industry Expertise
With years of experience across various industries, including healthcare, finance, e-commerce, and more, we have honed our expertise in understanding industry-specific challenges and delivering tailored software solutions. Our deep domain knowledge enables us to provide valuable insights and develop solutions that drive your business forward.
Client Satisfaction
Your satisfaction is our top priority. We are committed to delivering solutions that exceed your expectations. From initial concept to final implementation, we ensure constant communication, regular progress updates, and transparent project management. Your feedback and input are invaluable to us, and we strive for your complete satisfaction.